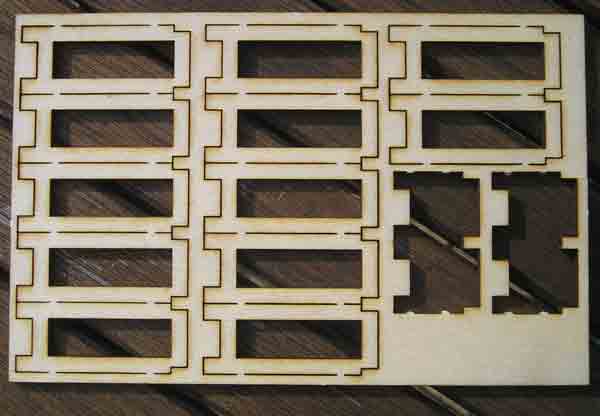 As the next stage in the MDLR's PW Dept train, I acquired a Triassic kit for the Hudson-built coach / riding van / tool van. The kit is made out of ply, lots of ply, all cut and detailed with lasers. Getting the parts out of the sheet is a simple "push out" exercise, rather like the cardboard kits you can buy for buildings in smaller scales. These particular bits are the supports for the workbenches, which I didn't use as I wanted a coach.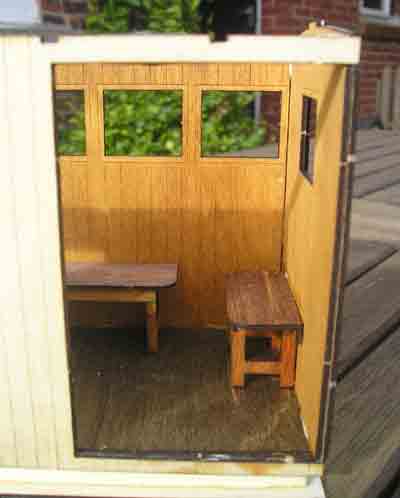 One decidedly odd feature is that the kit smells of burnt wood - hardly surprising, given the method of manufacture! This also puts a dark edge on all the cut edges, so a gentle rub with some glasspaper is needed if (like me) you want to stain them a light colour. Each part of the main body is made out of three separate layers of thin ply. It IS advisable to get yourself a couple of pieces of plate glass, so that all the main components come out flat. This picture shows how well the interior is detailed - both sides and floor (and the underside of the roof) have planking detail.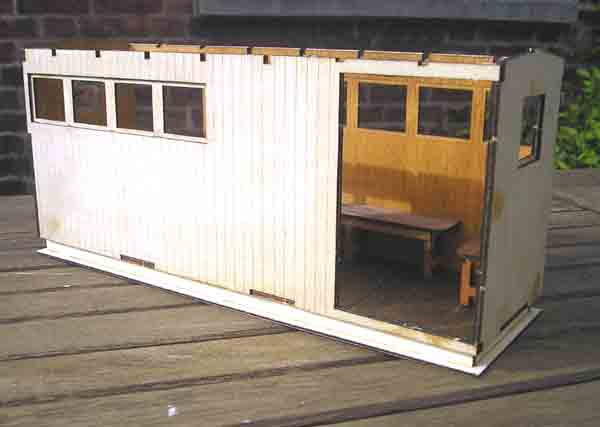 The kit has been very well thought out and designed. Much of the assembly is in the nature of "Slot Tab "A" into Slot "B" and even a dunderhead like me would have difficulty in getting it wrong! Note the recess for the glazing which is laser cut to size, but needs a little trimming as it apparently doesn't cut as well as wood. At this stage, the roof sticks needed to be added, before the outside was finished (with Cuprinol "Heritage Garden Shades" garden furniture treatment)...............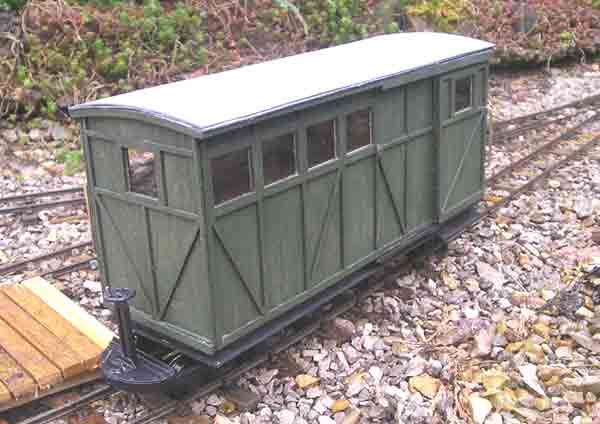 ............. and the glazing fitted. Then, the outside framing (also pre-treated) is added, securing the glazing in place. Next you add the top rails and lower door channel. Pity the kit didn't come with the brass strip and channel to do this, or with the wire for the handrails: the cost (a couple of quid) of this would be minimal and would have saved me going into Derby to get some.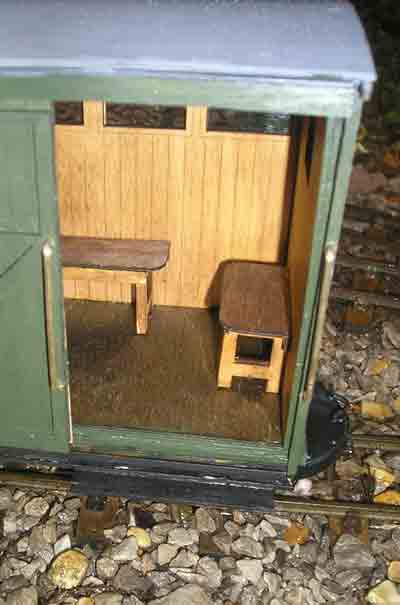 The interior still looks delightful (and of course, the sliding doors open)..........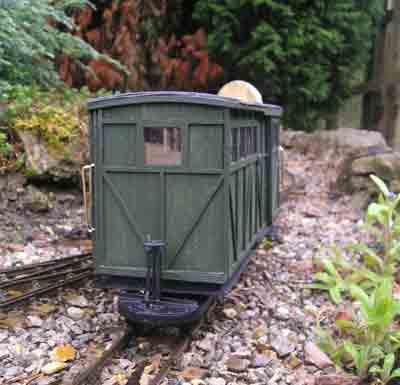 .......... and the vehicle is completed with the Hudson bogies of your choice - I chose IP Engineering ones. All in all, this is a superb quality kit which is an absolute pleasure to build. Apart from the niggles over the lack of brass bits, the only other thing which would be useful is a couple of pictures of the finished article, if only to show you where the two smallest parts - the door stops - actually fit!