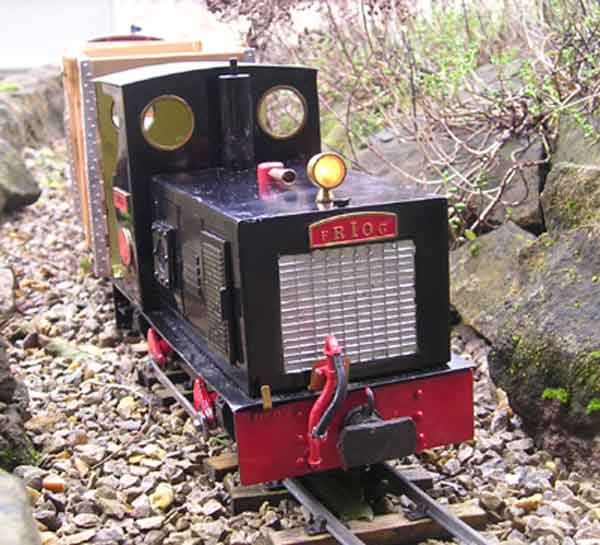 2006 has seen a major overhaul - after all, she's now 15 years old! A new battery pack, added detail from IP Engineering and a repaint has resulted in a rejuvenated loco, capable of more hard work.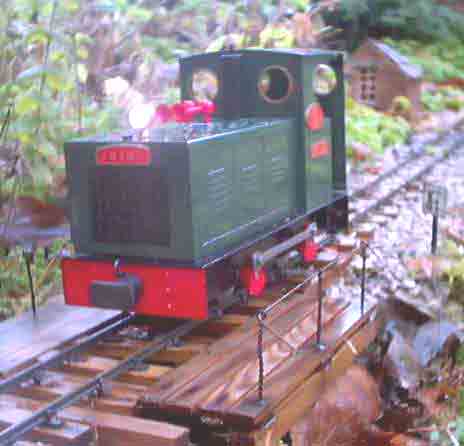 Since delivery, she's been fitted with horns, name and number plates and a cast "FRIOG" radiator badge, as I wasn't keen on the modern maker's name it now conceals. One "feature" you fortunately can't hear is the result of fitting the innards for a musical Christmas card in the cab roof, so when running at that time of the year it plays "We Wish You a Merry Christmas" and "Silent Night" as it gently perambulates. The little battery shows absolutely NO sign of going flat................. She was originally named "BRUCE" for a small boy, a neighbour and supprter of the railway, who shared many of the characturistics of the loco: small, square, built like a brick $hithouse and he went on, and on, and on................ In May 2004 the loco was renamed "GYTHA".
This loco is the real workhorse of the line which gets used when I want to run a quick train at any time: she's also my "doing the lawn" loco, as I can set her to work with a train whilst I get the lawnmower out and leave her to get on with it!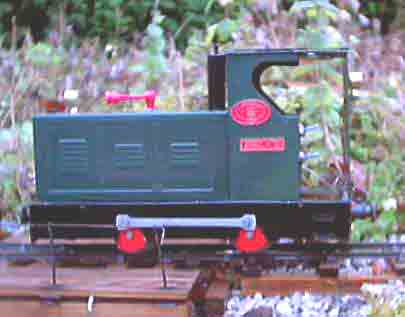 She was the protoype Friog "Natalie Anne", bought new from the manufacturer in 1991 and she's still going strong! The headlights are actually working model boat searchlights and are switched off the direction switch in the cab: these were installed in the Works before delivery. Other non-standard features were the GWR pannier tank style cabside cutouts.