The Mid-Derbyshire Light Railway's Loco No 11 "SIR SAMUEL" started life as a standard Roundhouse "Bertie", bought second-hand from a member who had decided to move onto a canal boat (imaginatively named "Wet Dream") and who'd only steamed it once.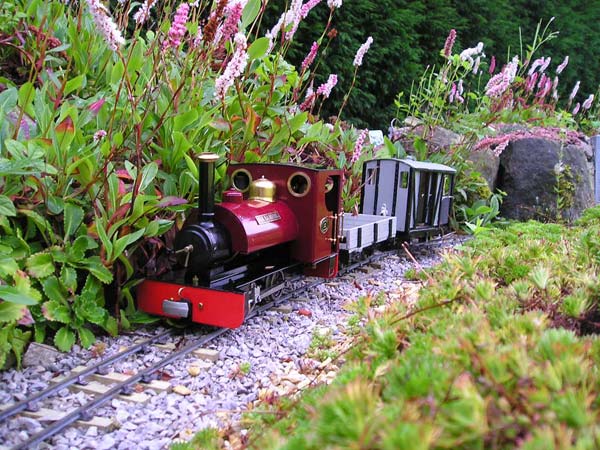 Here it's seen on test, shortly after acquisition and with only name and number plates added.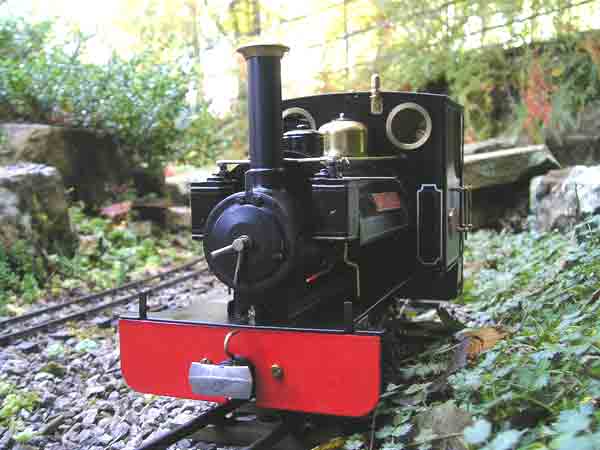 Unfortunately, it was the wrong colour for the MDLR, where you can have your loco any colour you like, so long as it's black (except for the Ruston and a Lollypop Railcar) so the body was removed and resprayed. A whistle was added and I also felt that the loco's front end looked too slim, so decided to alter this by adding a pair of Roundhouse cast sand boxes (that used to be used on the "Jack" loco), which totally changes the front view of the loco. I had it lined out, too, and this picture shows it in this form.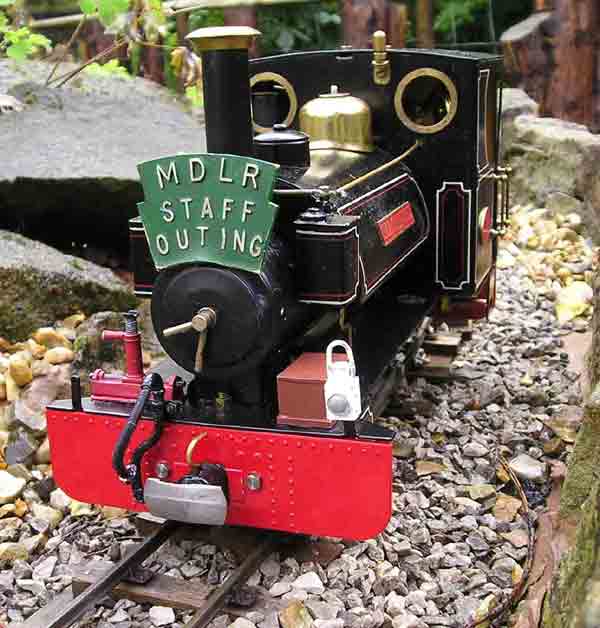 However, I still wasn't satisfied - that running plate looked a little bare - so I added a tool box and re-railing jack. Of course, using lamps and a headboard (because it would be a shame not to use the rather nice lamp brackets) also helps.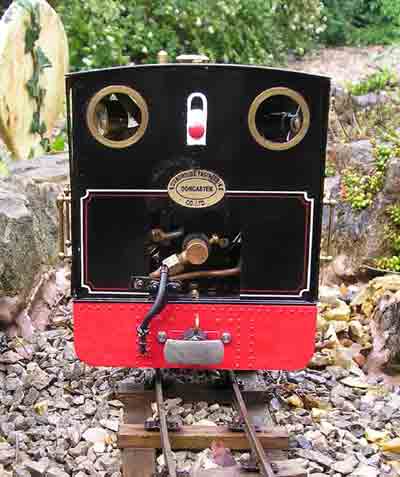 Putting a lamp bracket on the back of the cab, and relocating the Roundhouse works plate there helps to break up a rather large area.......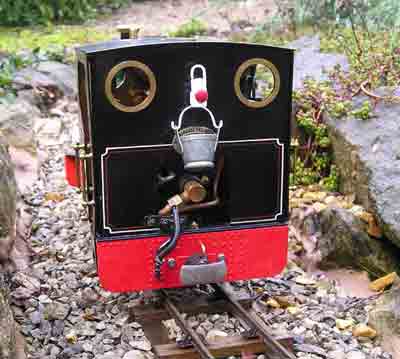 ................ though the effect is ruined when you add a bucket! Must get around to altering the dart on the smokebox door! Notice also the difference made by the vacuum pipes (which are an absolute PAIN operationally) and the etched brass overlays for the buffer beams, fixed with hex-head bolts with the heads one size smaller than standard - these look MUCH better than the standard big Roundhouse screws.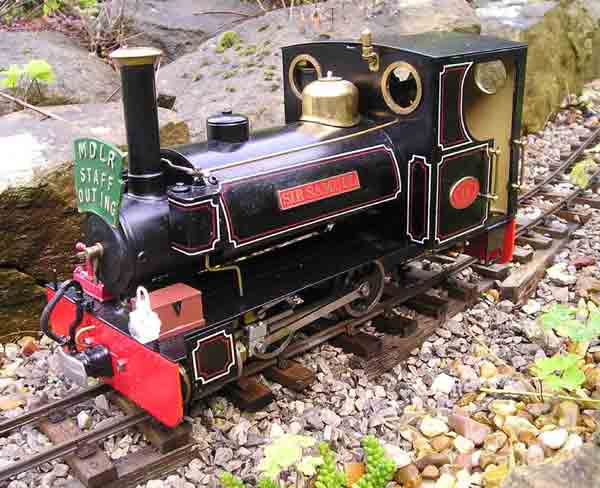 The piece of copper pipe you can see coming out under the cab side is for the loco's vacuum filling system - something which used to be fitted to a lot of locos at one time. You put a valve in the level plug (like wot you get on these locos for the optional gauge glass) and put a pipe on it to somewhere outside the loco. When you're finishing a run, you connect the copper pipe to a container of water with a longer length of plastic pipe than what I've got at the moment and open the valve. The last dribbles of steam rush out of the pipe, and as the boiler cools, it sucks water in out of the container. Once the cool water hits the inside of the boiler this process accelerates until the boiler is totally filled with water. Disconnect the pipe but leave the valve undone, and the next time you light up, the excess water is forced back out of the boiler. When steam starts to puther out, you know the water's at the right level, so close the valve and the pressure will quickly rise.