When I heard about an inexpensive kit for a petrol loco, produced by member Phil Sharples from Keighley, I decided that it might be suitable locomotion for Flagg Fluorspar. The loco is powered (if that phrase can be applied to this loco) by a single AAA battery under the Drivers' seat: the words "rice pudding", "skin" and "couldn't pull the" come to mind.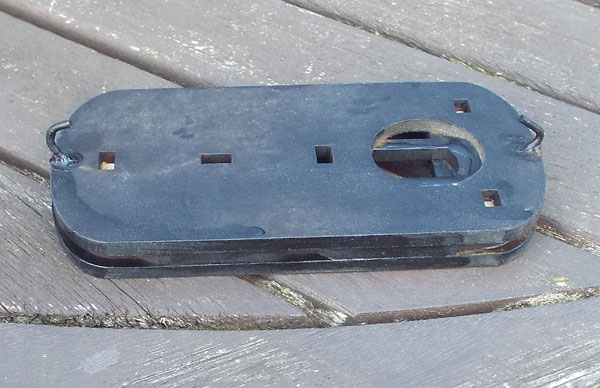 The underframe comes as three layers of MDF, which are held together whilst the glue sets by the wire coupling hooks.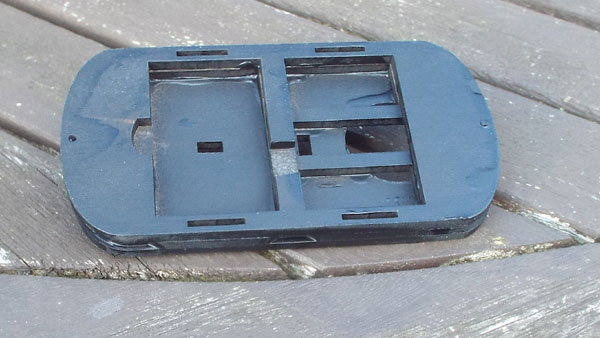 As I decided to go with 2 axle drive (this loco needs all the help it can get) I cut a notch in the central cross-member to make room for the chain.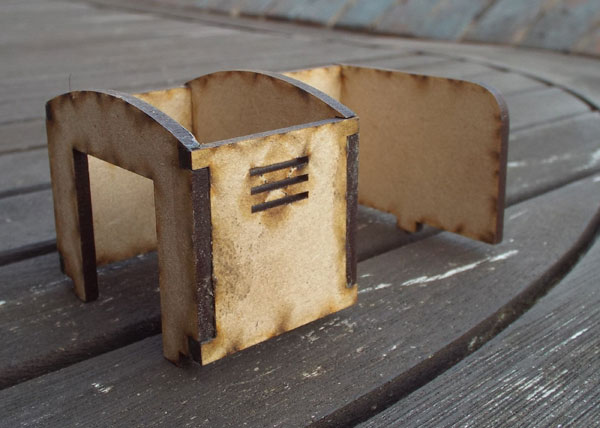 The body is located onto the underframe by a number of tabs (on the body) and slots (on the underframe). I discovered that it was possible to assemble the body on the underfame without glueing it down..........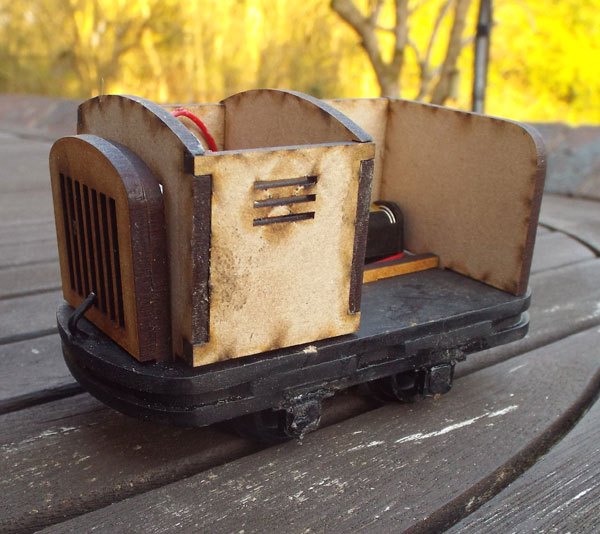 ...................... and fit the body after painting. As the slots and tabs were a VERY tight once the whole had been painted, the body was a "friction fit" and has remained so.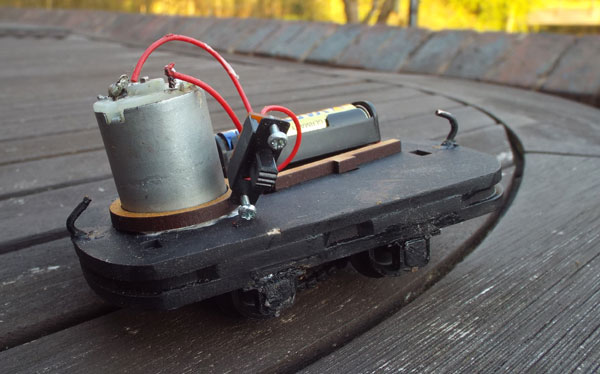 Wiring the loco would have been very simple if my flux hadn't (to quote Her Majesty) "gorn orf" - once it was replaced all was well.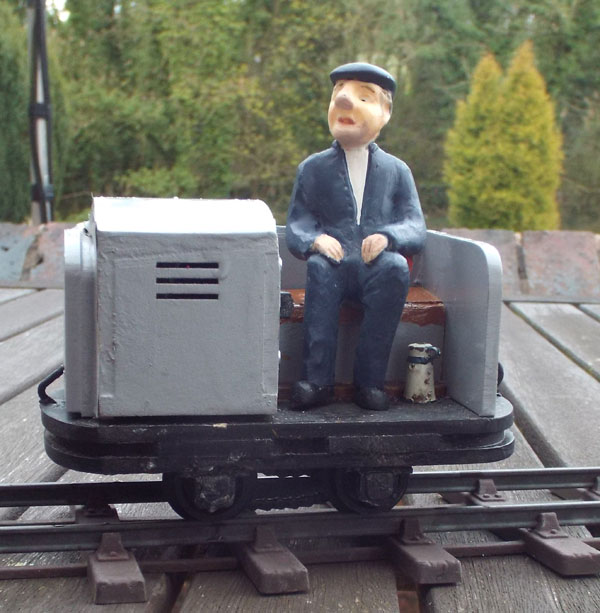 Instead of the piece of styrene sheet supplied, I fitted a bonnet top made from a square of very thin ply, which was trimmed back after the glue had set. Once I'd added a radiator cap (from a round-headed pin) and the body had had a rattle can or two pointed at it, the switch was fitted VERY CAREFULLY (there ain't much space in there for my old fingers) and the driver firmly stuck to his seat, so he could be used as a "handle" when a battery change is required.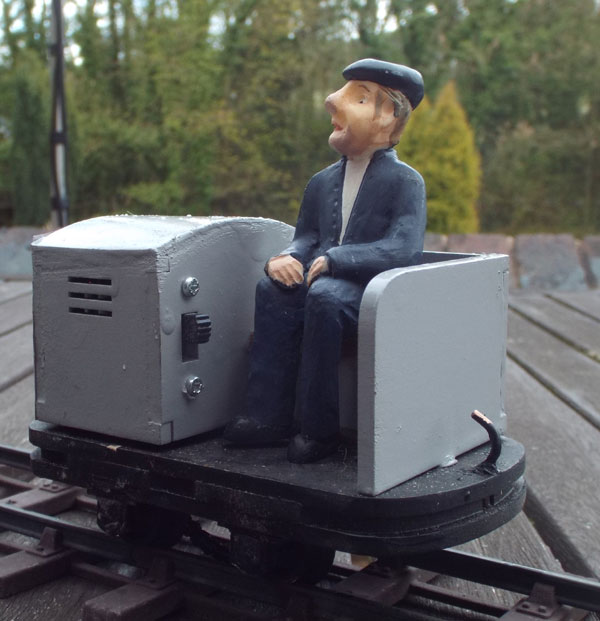 This rear view shows the switch installed - it's a simple ON/OFF affair.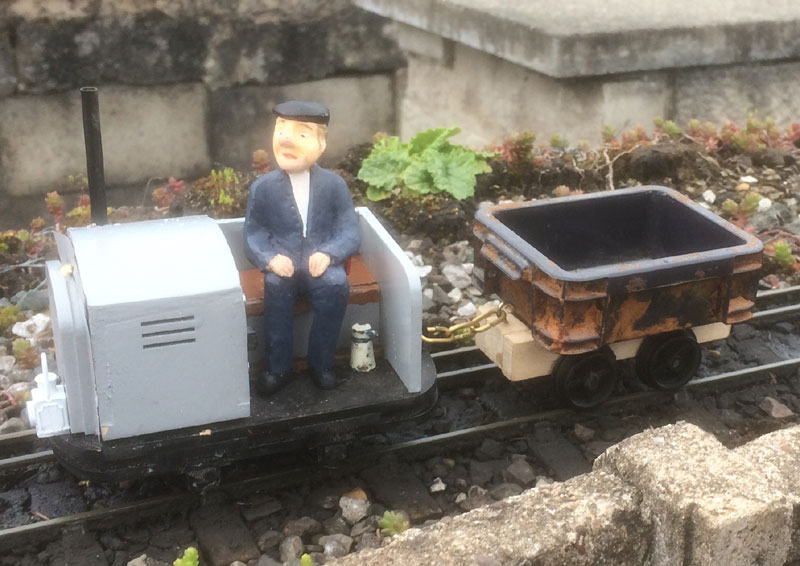 As is usual, these inexpensive kits can benefit from some modest customisation. I added a vertical exhaust (plastic tube, and long enough for the exhaust fumes to clear the Driver's head). a mash can which had been sitting around the workshop for YEARS, and a pair of Brandbright lamps fore and aft. As the loco only runs in one direction, these could be FIRMLY glued down! The wagon was kindly donated to the Railway: its body is made from a very small plastic box, suitably distressed, and the axle bearings are small cable ties.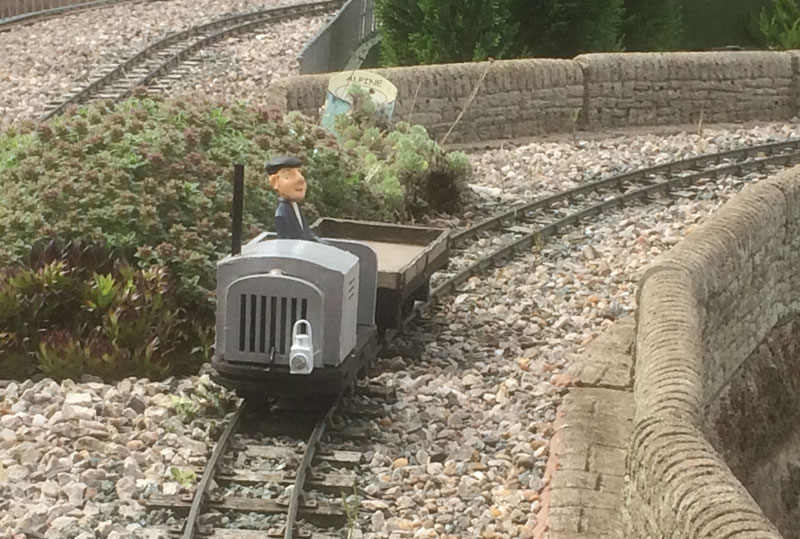 This is not really a loco to bring out on an open day - 1.5 volts produce very little "GO" so it's a loco to bring out on a peaceful afternoon when you've got a LOT of time to spare. She's seen here on test at Butterley when nobody else was around.....................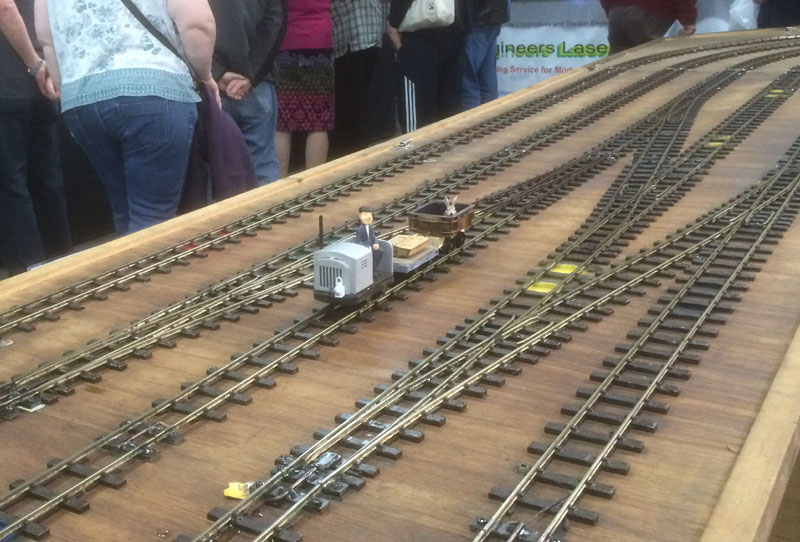 However, I DID take it to Elsecar in 2016, and as I'd got a half hour running slot on Mount Dowd................... It took the best part of ten minutes to get all the way round, but I'd got the slot...