As the layout's got better known, we get out and about to all sorts of model railway shows. I'll try and put a few pictures here to show what goes on and where we've been.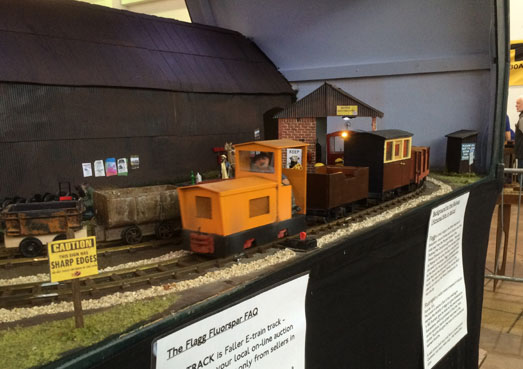 Exeter in October is one of my regulars. 2015 saw a visiting loco or two, as seems to be getting more and more common.................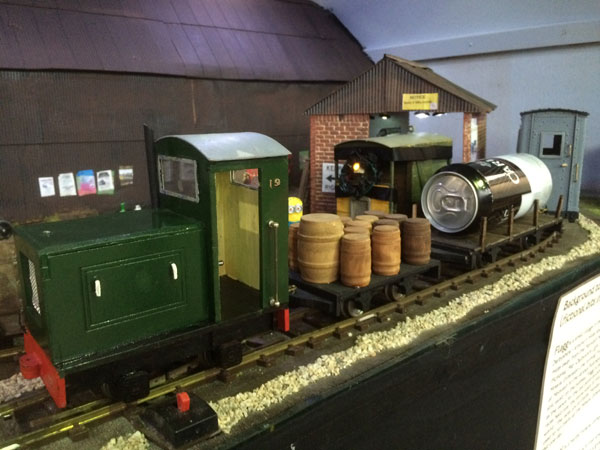 .......... and this was the occasion of the recording of the Beer o'clock Train, which normally runs at the end of a day's exhibiting. Depending on how "tired" the batteries in the locos are getting, this can result in the train having up to four locos on the head end!
I was asked to go to a small show at Weston-on-Trent near Derby in November 2015, where they hold a show as a fund-raiser for the school. It was interesting........... they don't have normal-height tables or chairs, so the layout sat rather lower than normal.
I'm glad I'd got my own chair!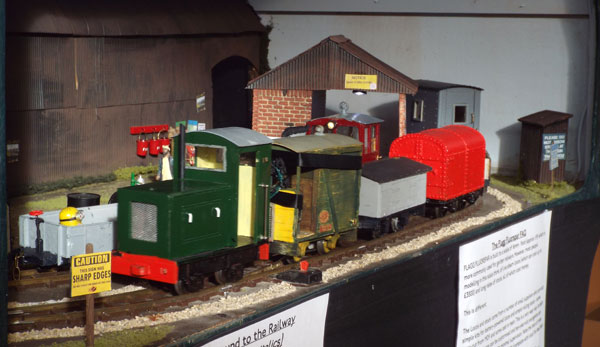 It was also a change to be able to take pictures of the layout illuminated by the low winter sun.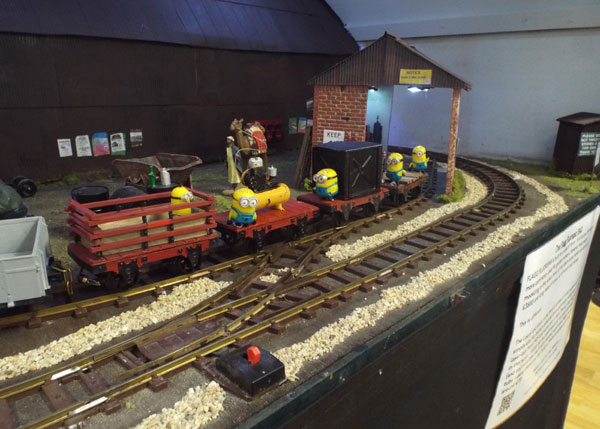 This was the occasion when another Crowd Pleasing Innovation made an appearance - the Flagg Fluorspar Maintenance Train, staffed by Minions!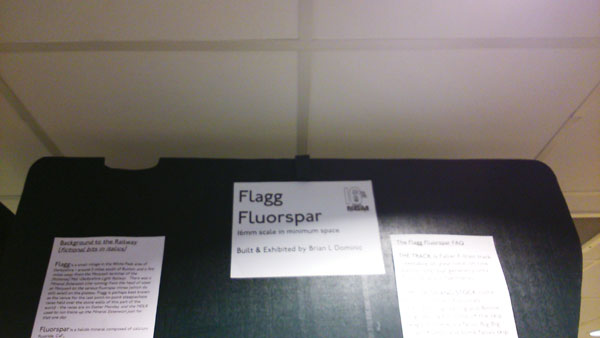 You have to think about all sorts of things when you go to shows - it was after the Sutton in Ashfield Show that I added "PLEASE NOTE THAT THIS LAYOUT WILL NOT GO THROUGH A STANDARD SIZE DOOR NOR FIT UNDER A STANDARD SIZE CEILING!" to the information supplied to exhibition managers.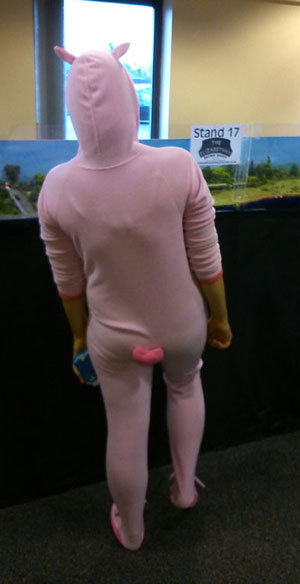 You sometimes get to see the oddest sights at exhibitions - this young lady rolled up one Sunday morning..............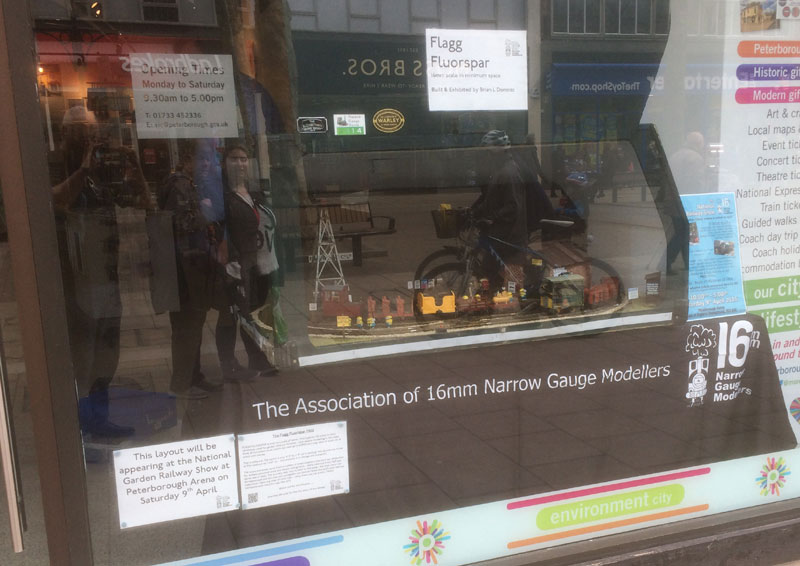 April 4th 2016 saw the layout on its way to Peterborough, where it went on show............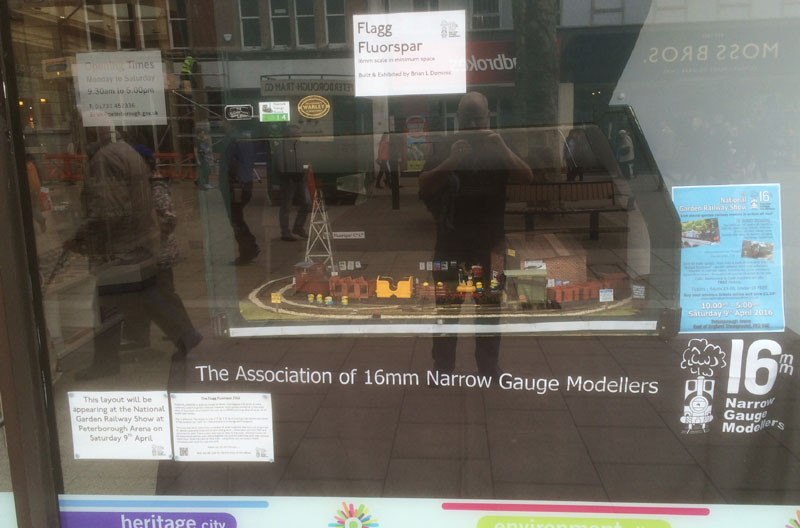 .................... at the Peterborough Tourist Information Office.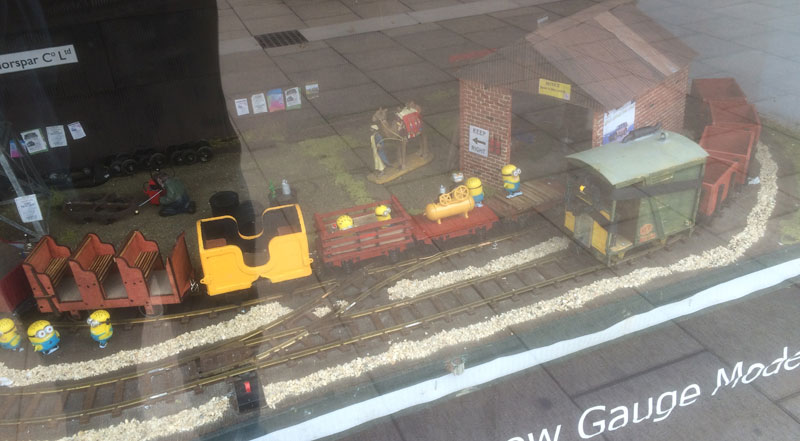 It's a problem getting pictures with the reflections from the windows...........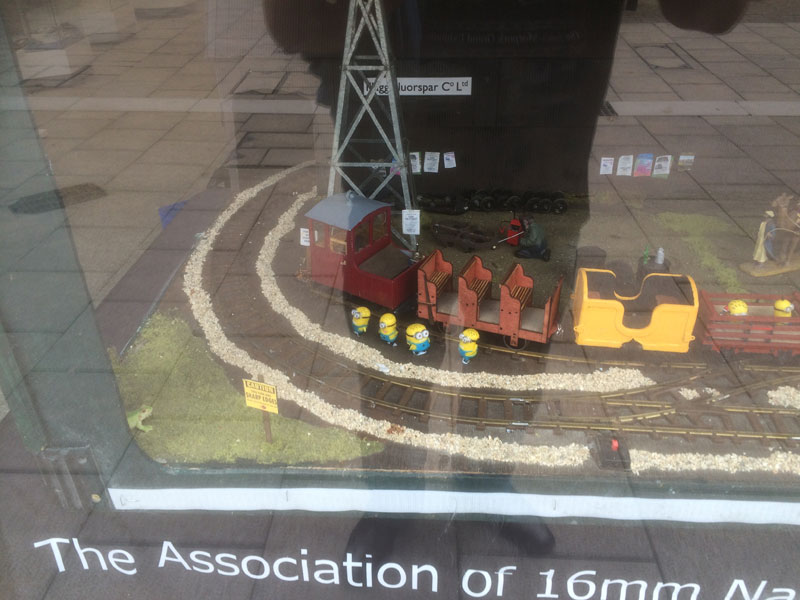 ........... but I did my best.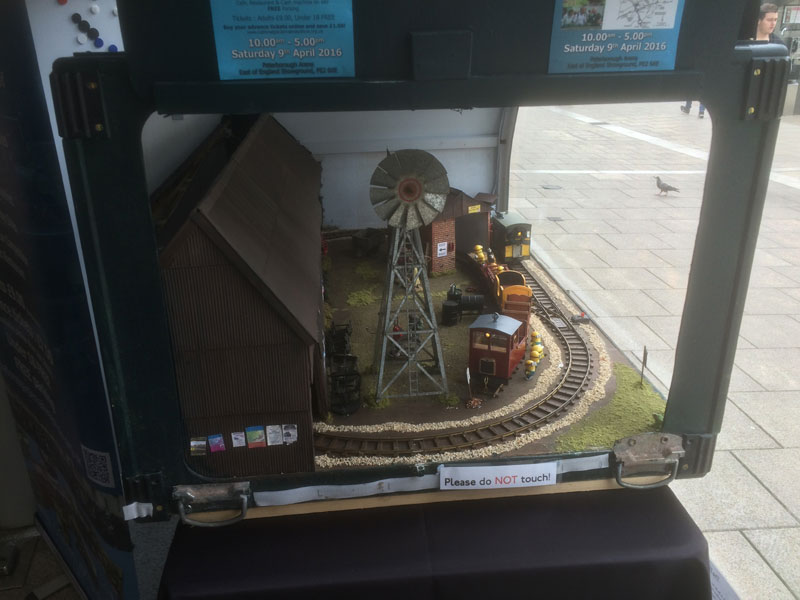 I kept most of the stock WELL away from the open end!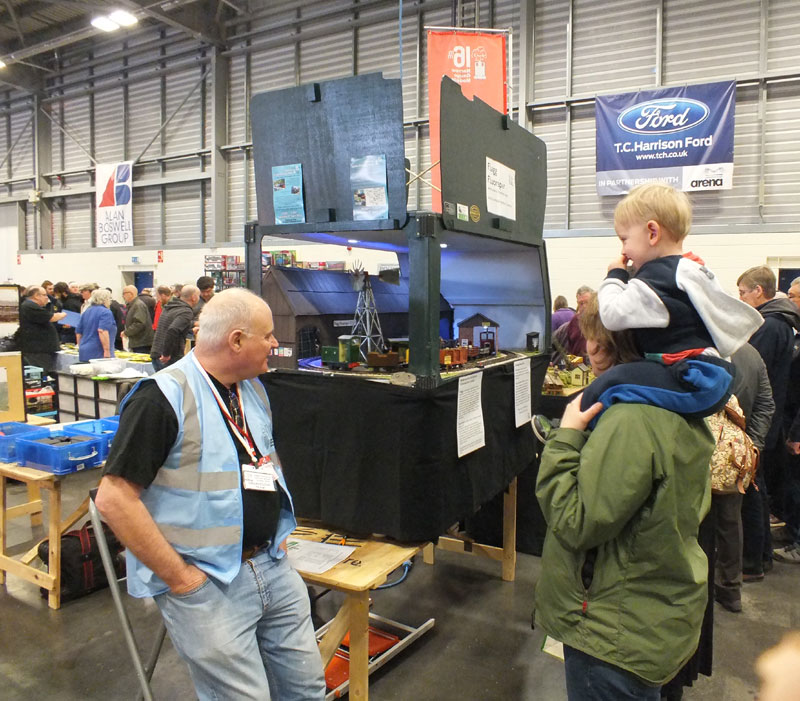 The layout appeared in due course at the 2016 National Garden Railway Show at Peterborough, after a mad dash to Radio Cambridge to do half-an-hour on the radio. It was actually quite nice to sit and talk to people.............. (picture - Rod Nipper)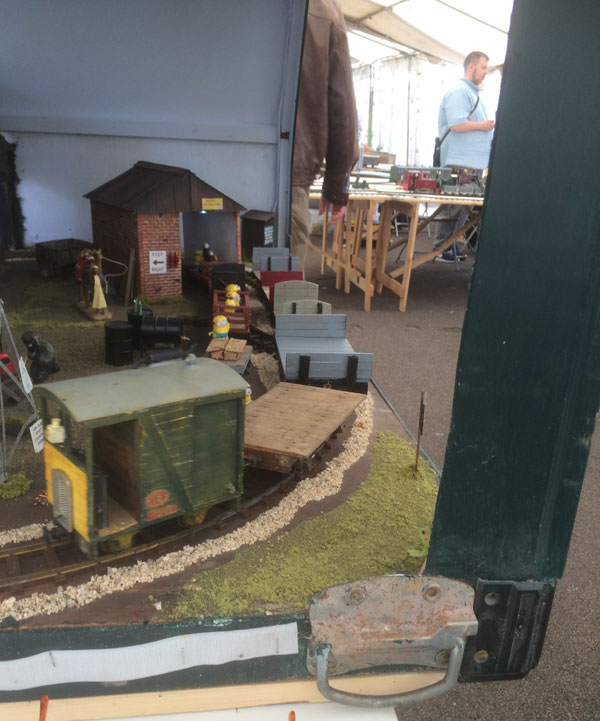 Our next outing was at the Great Central's Railex for 2016, where the garden railway scales were, as usual, in a tent on the station platform at Loughborough.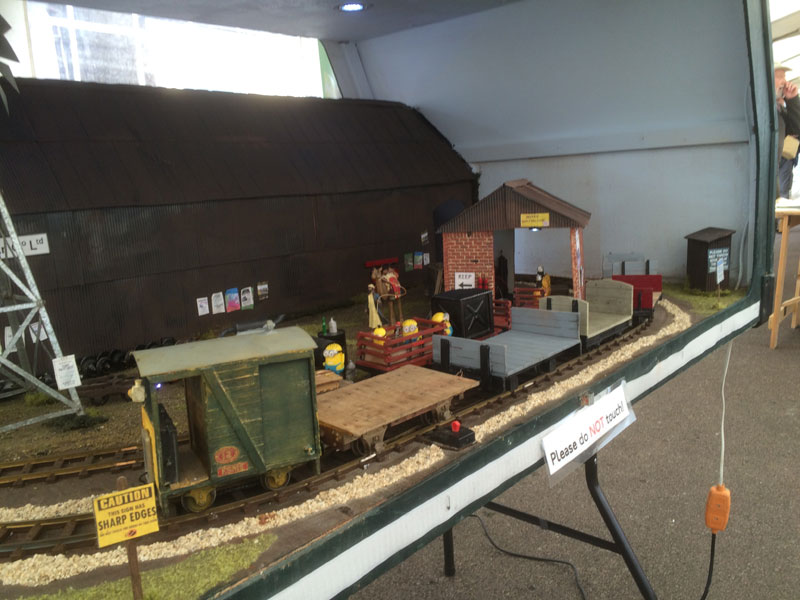 As an experiment, the layout was placed directly on my new table, which meant an extra notice was required to discourage Little Fingers.
Notice the train: "Prelude & Fugue on Flat Trucks"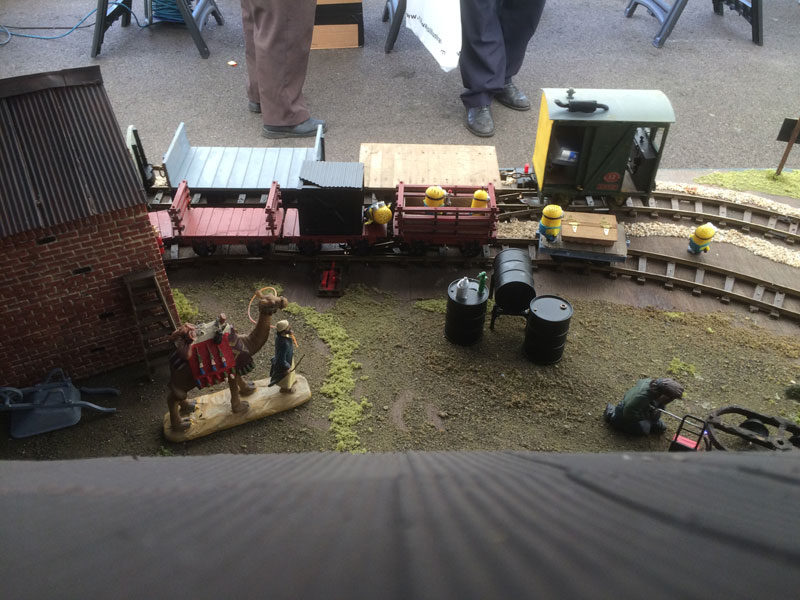 There was also a new viewpoint for the operators, looking over the top of the roof of the Big Building.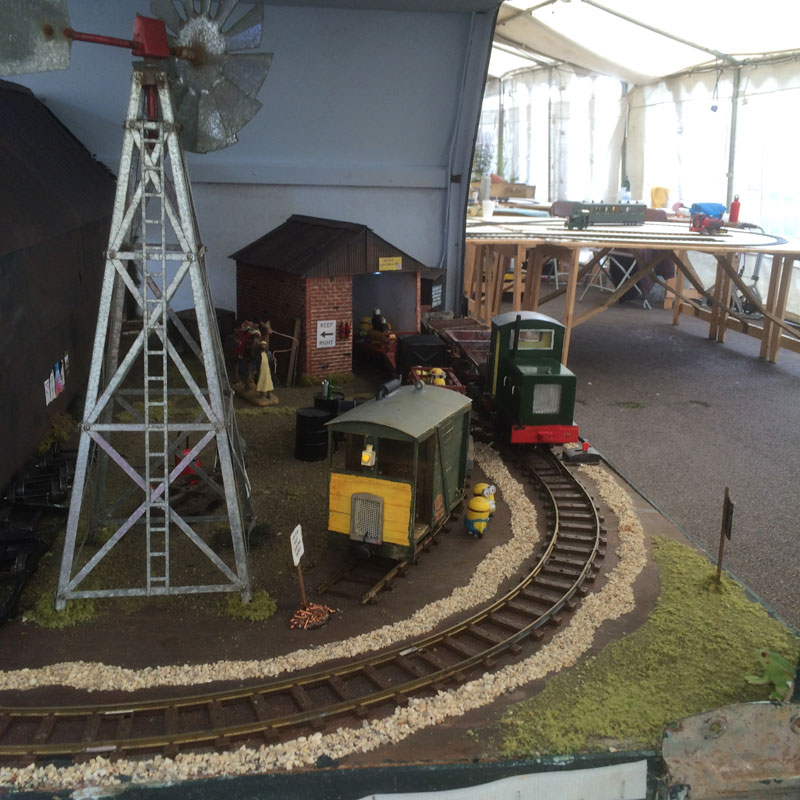 It seemed to work quite well and may just become a permanent feature, as the layout is much more stable at this level.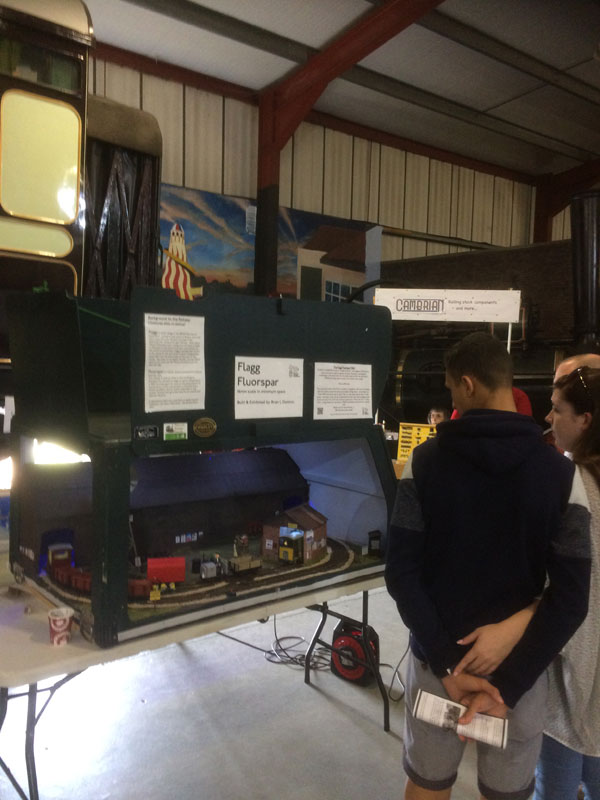 Bressingham was an interesting venue - I was in the Exhibition Hall, with an early LNWR Postal coach for company...........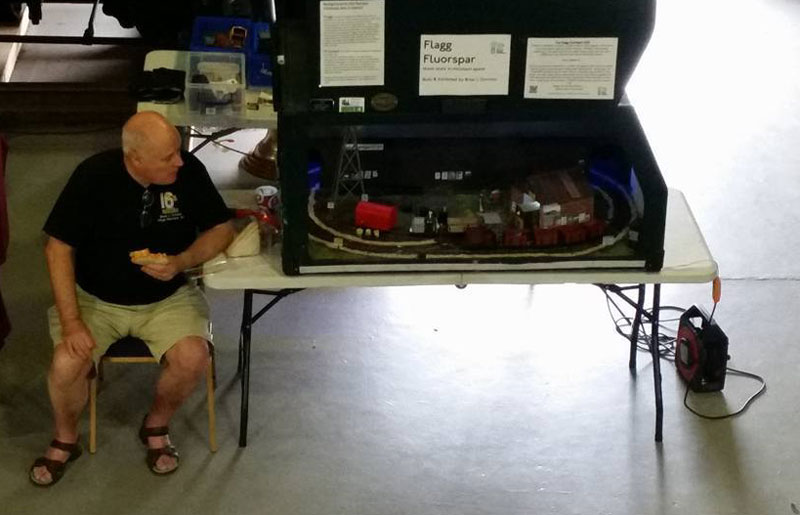 I was caught unaware from the balcony whilst I was eating my provided lunch - an occupational hazard when you're a lone operator. As I stopped overnight on the Saturday, I had a chance to go for train rides on the Sunday before heading for home.(picture by Trevor Ruffles)