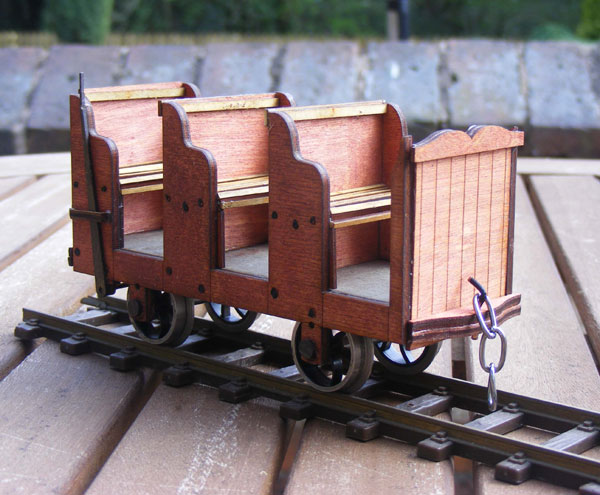 I bought this Penrhyn Supervisor's Coach after seeing it in the 2012 Modellers' Guide - I finally got around to building it on the Thursday before Peterborough 2013! Having stained all the bits before assembly, the whole thing went together remarkably easily, apart from the slatted seats - the need for a steady hand after a VERY long day meant they got added after and I found some forceps to be incredibly useful for putting them in place.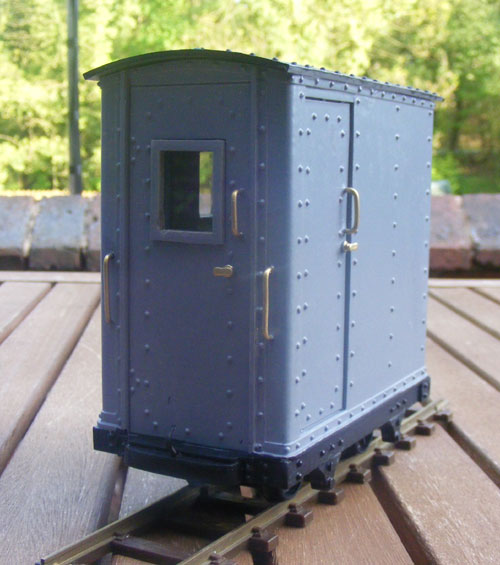 The Swift Sixteen brake was a very easy build.............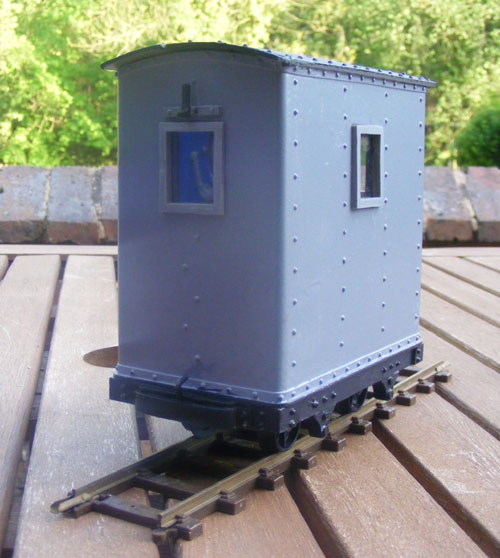 ........... the hardest job was getting the handrails bent right - there was NO margin for error as the wire snapped if you tried to straighten out a bad bend. The spray primer didn't take as well as it might have done, but the overall effect looks fine.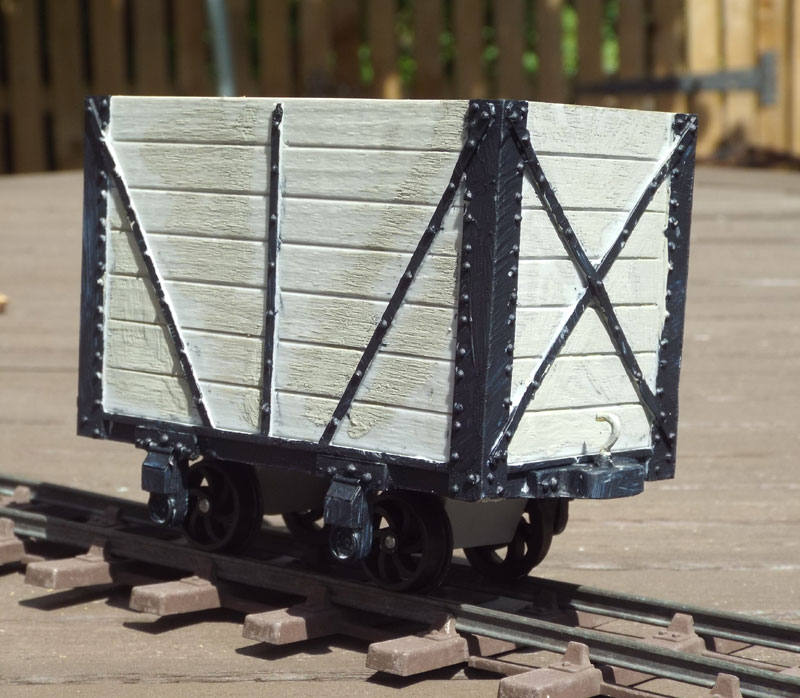 One of the wagons which was stolen was a high sided coal wagon which was one of my first models in this scale: it was built from a kit and almost literally fell together out of the bag, which is why I graduated to this scale. I don't think the original kit is available any more, so I bought the resin cast model of the wooden version from Swift Sixteen, and started to build it at the 2015 Peterborough Show. It's perhaps not as precisely painted as it might have been at one time - deteriorating vision and an unsteady hand made painting a challenge (I now remember why I like spray painting so much) but it looks suitably scruffy and down-at-heel, so I'm content..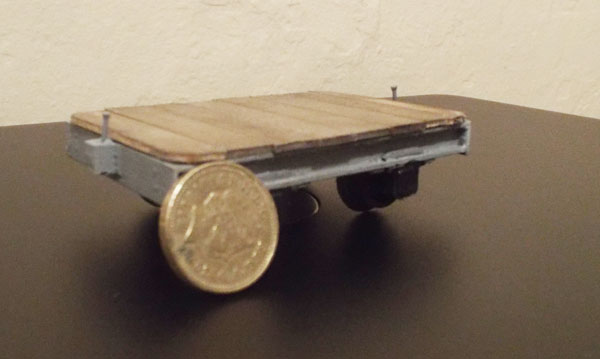 I've been a fan of 3D printed rolling stock for some time, but a price hike by the major supplier meant at least one supplier of "kits" went out of business. One of the last items I acquired from him was this VERY small Hudson flat wagon, seen here on completion...........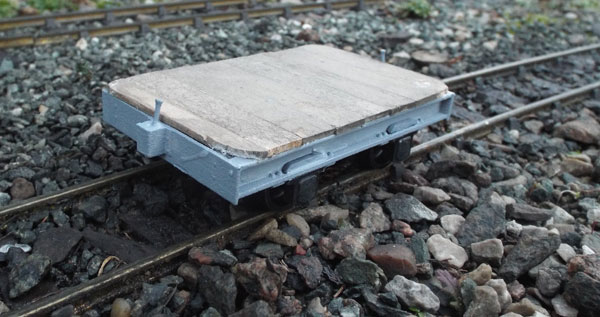 ............... and here at Butterley.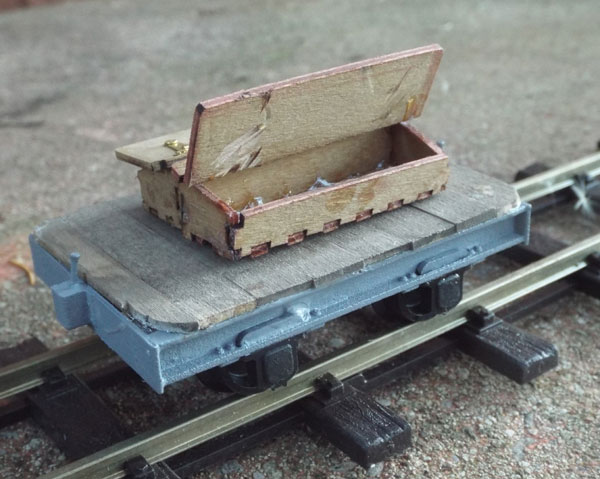 I decided that it was just a LITTLE small for a flat wagon, so I added a pair of Jurassic Models tool boxes (with opening tops, care of a pair of dolls' house hinges) and converted it to a tool cart. It'll go nicely behind my petrol loco.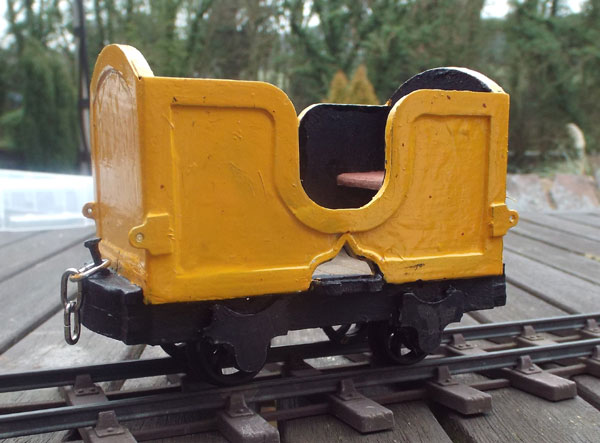 Stuart Hughes produces small batches of kits for this Royal Carriage, built to carry Queen Victoria on a tour of the Dinorwig quarries. It deserves a better paint job.........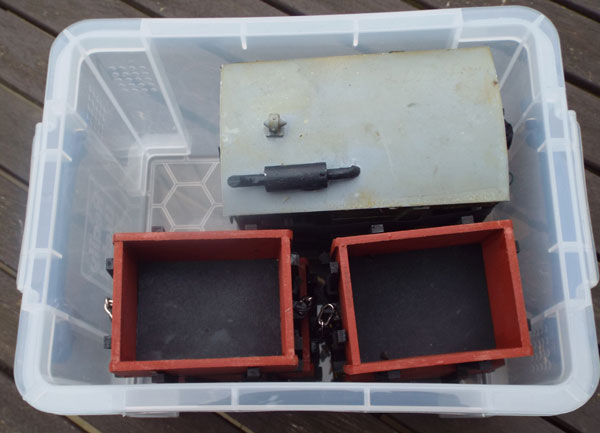 One of the advantages of small wagons is that you can pack a whole train (in this case, "ESME" and four mine tubs) into a fairly small box......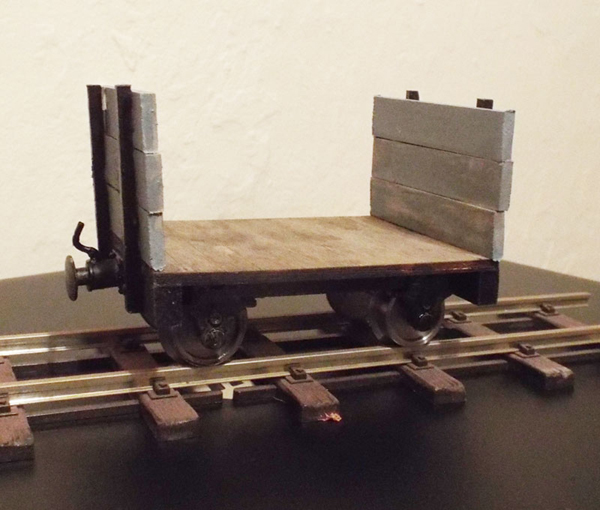 I bought one of the last of Jim's Models kits when he gave up on the business - very much a kit in the classic mould: a deck with laser-cut detailing, axleboxes and wheels, and lots of bits of wood to glue together. It's made a pleasant little wagon.....................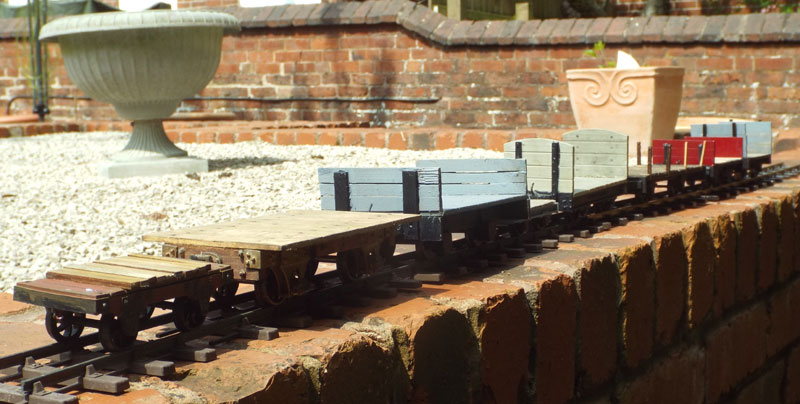 ........................... which prompted me to take this picture, showing the variation that can be had in the simple flat truck. From front to back: ex-slate wagon, a flat made with Talisman brass castings (including sprung axleboxes, no less), an HGLW flat with added ends, the little 3D printed Hudson flat, a Swift Sixteen flat (cast resin), the IP Engineering long wheelbase flat which normally carries pipes or the beer can, the IP Engineering Lollypop Farm Parcel flat and finally the Jim's Models flat. I really must run this as a train............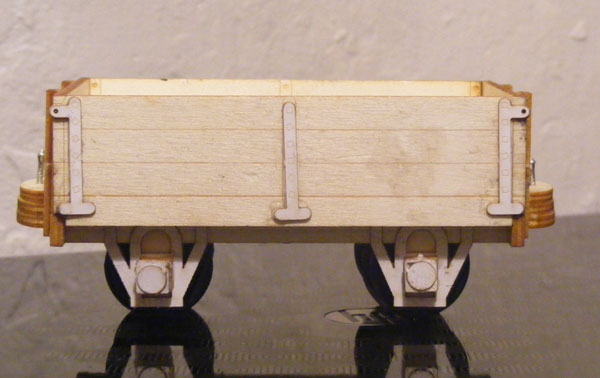 At the Peterborough 2014 Show, I picked up the kit for this delightful little open wagon from Jurrassic Models. It was only fourteen of your Earth Pounds - good value in anybody's books. It's unusual in that the "tabs" on the body sit in recesses burnt through two of the three plies, rather than slots cut all the way through. You have to clean the charred "crisp" out of these before assembly, but then it all goes together most satisfactorily. The overlays are laser-cut card - there are 1.5mm x 1.5mm nuts to glue on, if you REALLY want to.............. (I didn't!). The whole has been matt varnished, as I thought it looked good "in the wood".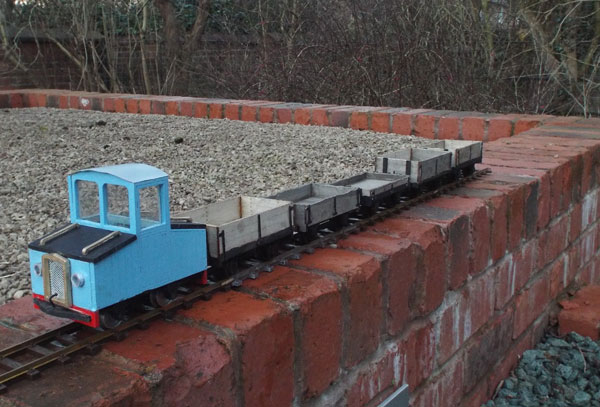 I've been using the wagon as a model to build as a demonstration: it's a straightforward build, it's relatively quick (2 1/2 hours from start to finish) and it suits my dilute Indian ink weathering technique. Here's the train I've built so far, in charge of loco 27 "PONDER STIBBONS".
This one's been fairly heavily distressed on the top edge of the body (thanks to Mr Dremel).......................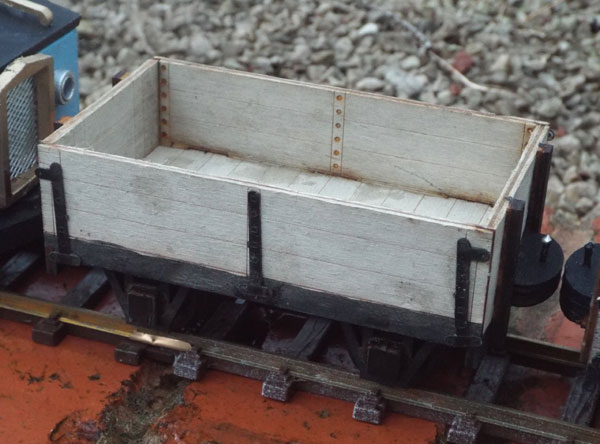 ...................... whereas this one's been more lightly distressed and and weathered.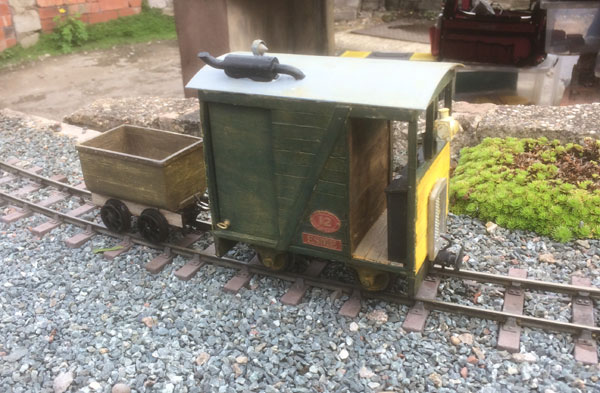 in early 2017, I acquired some of the delightful kits from Harecroft Models which are ideally suited for the line. This is a quarry tub from Threlkeld in Cumbria (with a 3D printed tub)(seen on an "Awayday" at Butterley with ESME)..........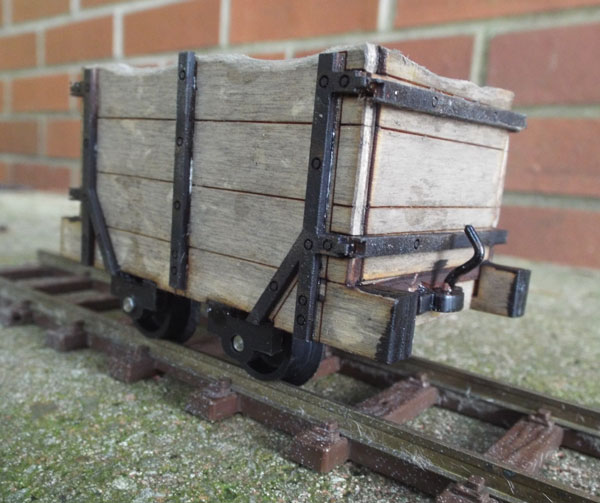 ..............and this one is a Birkhill Fireclay Mine Hutch, seen here suitably distressed and weathered.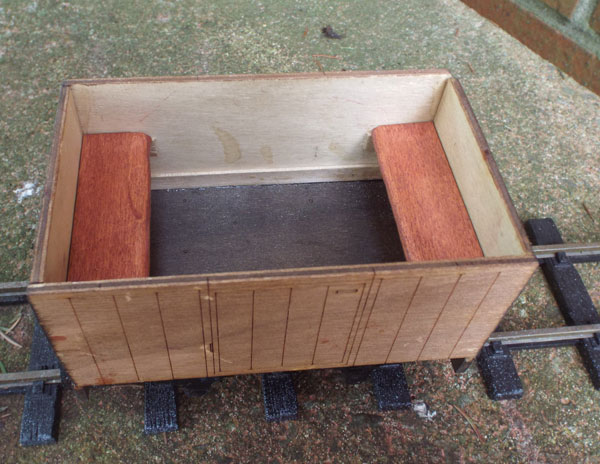 IP Engineering have brought out new versions of some of their Ezee kits This is the open coach which now lacks back rests.........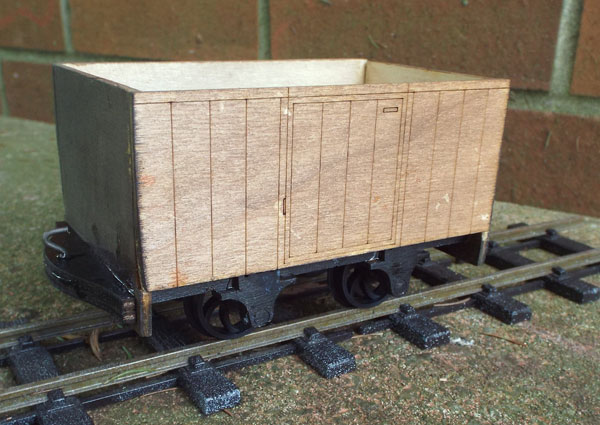 ..............and like all the new introductions, now has solebars with lasered axleboxes instead of white metal axleboxes. A change to plastic wheels means the weight of the coach has gone down from 130 gm to 57gm.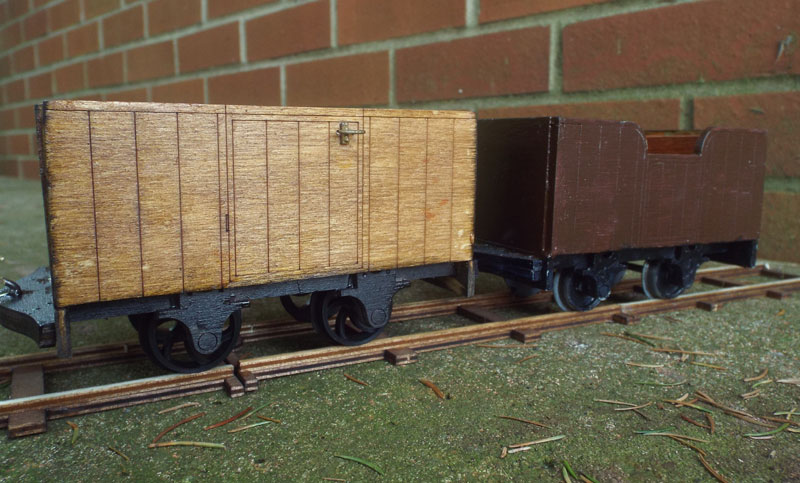 The pair alongside each other............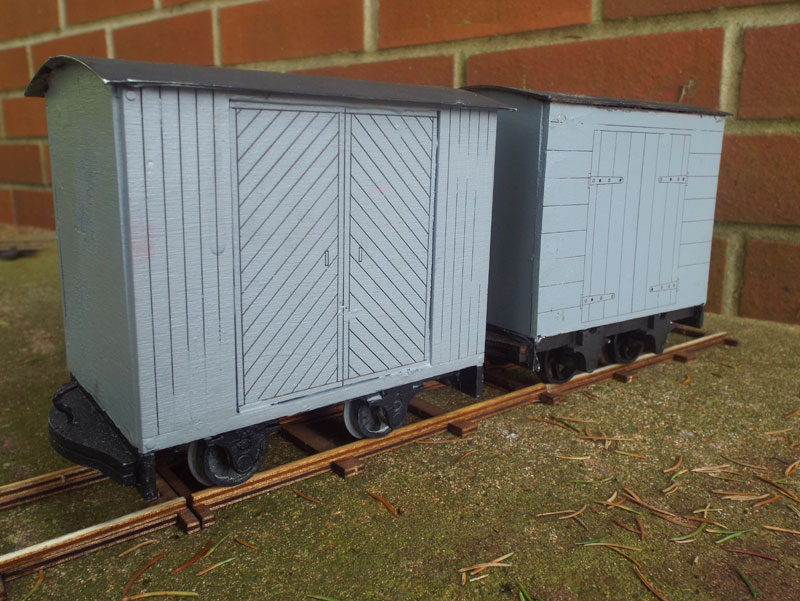 ...........and a pair of vans - the new one on the right.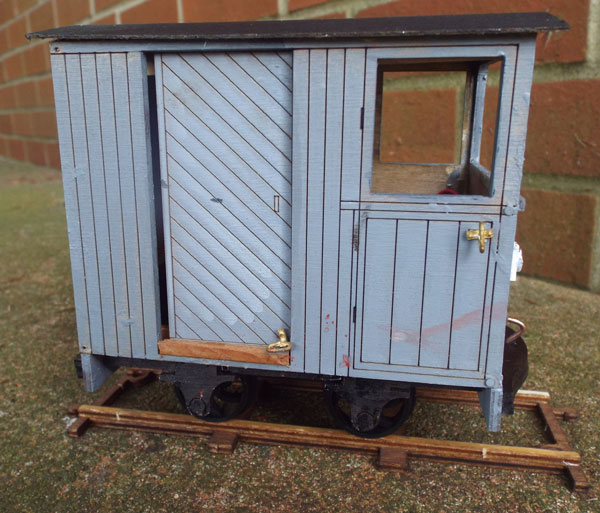 The new brake van had a couple of mods - I made one of the doors to slide..........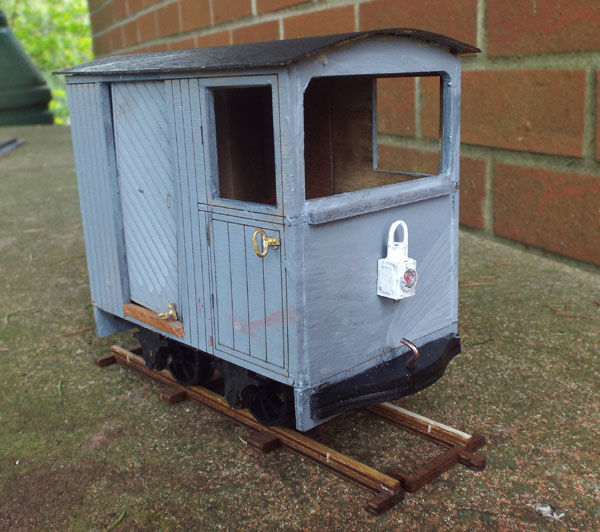 ...................... and fitted a working tail lamp, fed by a battery box inside. The door handles (like the ones on the coach) were added by me.